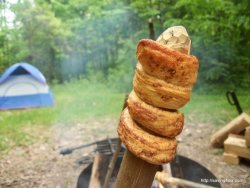 What You Will Need:
1 package of crescent rolls from the fridge section
1/4 cup of sugar mixed with 1 -2 tablespoons of cinnamon
Wooden Skewers
Powdered sugar mixed with a dash of milk to form a drizzle glaze
What To Do:
Mix the cinnamon in sugar in a small paper bowl.
Pull the rolls apart and wrap them all around the wooden skewer.
Roll the wrap in the cinnamon and sugar mix.
Place a grill on top of the fire. (Be sure to use non stick spray on the grill prior to heating it!)
Place the roll sticks on the grill over the campfire and turn often.
In 5 minutes your cinnamon sticks will be done! Cover them with a light frosting drizzle and serve with fresh fruit.