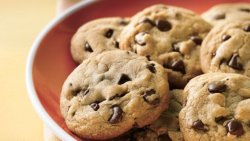 Ingredients
1/2 cup butter, softened
1/2 cup peanut butter
1 cup packed brown sugar
1/2 cup white sugar
2 eggs
2 tablespoons light corn syrup
2 tablespoons water
2 teaspoons vanilla extract
2 1/2 cups all-purpose flour
1 teaspoon baking soda
1/2 teaspoon salt
2 cups chopped semisweet chocolate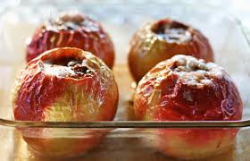 Ingredients
Granny Smith Apples
butter
brown sugar
cinnamon candies
caramels
Preparation
Use as many Granny Smith Apples as you need for your camping crowd. Core the apple, leaving a thin layer on the bottom. In the cored out area, put a pat of butter and about a tablespoon of brown sugar. This will depend on how big your apples are, remember the brown sugar will melt down into the butter. The rest is up to you, you can put in a few cinnamon candies, or a couple carmels, depending on the flavor you like. Wrap the apples in foil, (if your coals are hot, double wrap, if they are cooler, single wrap). The apples are placed on the coals, and rolled evey 10 minutes or so. They usually take about a half hour, depending again upon the heat of your coals. If you are lucky enough to have a freezer, you could add ice cream when you serve these. We have also served them with a whipped topping, cheese, or if your a purist…just as they come from the fire.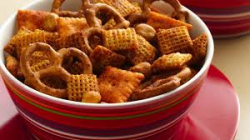 Ingredients
Makes 12
2 Tbsp margarine or butter
2 tsp barbecue seasoning
1 8 oz. can mixed nuts
1 3 oz. can chow mein noodles
Preparation
In a 2-quart microwave safe casserole dish, combine margarine or butter and barbecue seasoning. Cover and microwave for 45-60 seconds or till the margarine or butter is melted. Stir in the mixed nuts and chow mein noodles.
Cook, uncovered, on high for 6 -7 minutes or til mixture looks toasted and light brown, stirring every 2 minutes the first 4 minutes, then every 30 seconds. Spread the mixture out on a baking sheet, allowing it to cool and get crisp. Store in an airtight containter.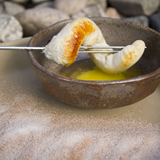 Ingredients
1/2 c sugar
1/2 Tbsp cinnamon
4 Tbsp butter (melted)
1 package bread dough
Preparation
Mix sugar & cinnamon together until well blended. Melt butter in shallow pan, such as a round cake pan. Take the biscuits and roll in hands to form snake shaped pieces. Wrap the snake-like dough around a stick in a coil fashion. Cook over a campfire until evenly browned. Roll the cooked dough in the melted butter and then in the cinnamon/sugar mixture.