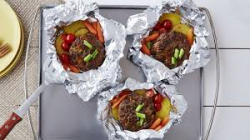 Ingredients
4 hamburger patties
1 onion (sliced)
1 can mushroom soup
potatoes
squash
butter
seasoning to taste
Preparation
Place hamburger patties on foil. Cover with a layer of onions and mushroom soup.
Fold foil into pouch.
On a second piece of foil, slice potatoes 1/2 inch thick and alternate layers with onions topping with a few slices of butter and your choice of seasoning.
Slice squash and add to potatoes.
Wrap up foil.Throw it all on the Grill or camp fire.
Wait one hour turning every 15 minutes.