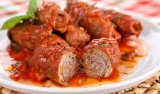 Ingredients
4
Tbls. extra virgin olive
oil
1
/2 cup grated Parmigiano-Reggiano cheese
1/2 cup seasoned bread
crumbs
2
cloves garlic, finely minced
2 tablespoons freshly chopped Italian parsley
1 medium onion, finely diced
Freshly ground black
pepper
1
cup semi-sweet red table wine.
3-4 cups basic Marinara
sauce
Directions
Preparing the Filling
In a large mixing bowl, or small food processor, add the eggs, olive oil, minced onions and garlic, Parmigiano Reggiano cheese, chopped parsley, a good pinch of freshly ground pepper, bread crumbs, and mushrooms.
Set aside and begin work on the beef.
Preparing the Beef
The main objective is to use pieces of steak that are pounded down to between 1/8 and 1/4 of an inch thick. You do this by placing the meat between two sheets of plastic wrap and pound it down with a meat mallet.
ASSEMBLY
Now that your components are ready, lay the meat down on a clean work surface and spread the bread crumb stuffing evenly over the steak. Keep the stuffing away from the edges so that it won't cook out. Start at the narrowest end and roll up the meat like a jelly roll. Seal the rolls with butcher's string or wooden tooth picks
Preheat your oven to around 350º. To brown your Braciole, heat the remaining olive oil over medium heat in a heavy duty, oven proof frying pan.
Add in the Braciole and lightly brown on each side.
cover pan with aluminum foil before transfering it to preheated oven. Check it out every 10 minutes to rotate the Braciole and to add more marinara sauce if needed to keep the mix moist. About 15 to 30 minutes after it goes into the oven, remove the foil, add more sauce, and cook until the meat is tender.