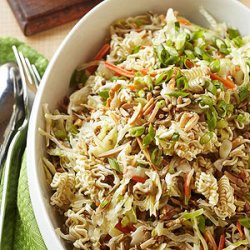 Ingredients
1 LARGE PACKAGE OR 2 SMALL PACKAGE COLE SLAW MIX
1/2-1 C CHOPPED GREEN ONION
1 PKG RAMEN NOODLE MIX (UNCOOKED)
1/4 C SUNFLOWER NUTS
1/4 C SLICED ALMONDS OR INCREASE SUNFLOWER NUTS TO 1/2 CUP
2 T CIDER VINEGAR
2 T CRISCO OIL
1/4 C SUGAR
1/2 C WATER
Directions
In large bowl combine cole slaw mix & chopped green onion.
in a shaker container combine vinegar, oil, water, sugar and seasoning mix from ramen noodle & shake well. Pour over cole slaw mixture. Just before serving break up uncooked ramen noodles & mix with nut meats, combine all well with cole slaw mixture.
this is best if cole slaw mixture is made the night before and allowed to marinate overnight. Put the nuts & noodles on just prior to serving.
also, this may be served with grill chicken breast as a main dish salad.