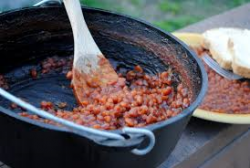 Ingredients:
8 Bacon slices, cut 1 1/2"
1/2 c Chopped onion
1/2 c Chopped green bell pepper
53 oz Can pork and beans
1/4 c Molasses
1/4 t Tabasco sauce
Directions:
Heat oven to 375 degrees. Fry bacon until crisp;set aside. Reserve 2 tablespoons drippings in pan. Saute onion and green pepper in drippings until tender. Combine beans,molasses and red pepper sauce in a 2 1/2 quart casserole. Bake 40 to 45 minutes. Top with bacon.